The world:  Algeria 
The Department of State continues to warn U.S. citizens of the risks of travel to Algeria. This replaces the Travel Warning for Algeria dated January 19, 2013, to update information on the current security situation in Algeria, the continuing threat posed by terrorism, and to reiterate information on security incidents and recommendations on security awareness. 
Based on an assessment of the current security situation in Algeria,  the authorized departure status for U.S. Embassy personnel and their dependents of February 18, 2013 has been lifted.
We urge U.S. citizens who travel to Algeria to evaluate carefully the risks posed to their personal safety. There is a high threat of terrorism and kidnappings in Algeria.
 Although the major cities are heavily policed, attacks could still potentially take place. The majority of terrorist attacks, including bombings, false roadblocks, kidnappings, and ambushes occur in areas of the country east and south of Algiers.
Al-Qaida in the Lands of the Islamic Maghreb (AQIM) is active and operates throughout Algeria. In February 2011, AQIM claimed responsibility for the kidnapping of an Italian citizen and her Algerian driver; and also the suicide bomb attack at the Algerian Military Academy in Cherchell, 48 miles west of Algiers in August 2011.  The Movement for Unity and Jihad in West Africa (MUJAO) is also active in Algeria. In October 2011, they kidnapped two Spanish nationals and an Italian national from a refugee camp 1,088 miles southwest of Algiers in Tindouf. In March 2012, MUJAO claimed responsibility for the car bomb attack at an Algerian military base 1,196 miles south of Algiers in Tamanrasset and a similar car bomb attack at another base 478 miles south/southeast of Algiers in Ouargla. In January 2013, an AQIM-linked organization: "Those Who Sign in Blood", led by Moktar Belmoktar, attacked a gas production facility near In Amenas, Algeria.  The group held dozens of western and Algerian hostages for four days that resulted in the deaths of dozens of hostages, including three U.S. citizens.  Mokhtar Belmokhtar remains a threat and is at large in the region.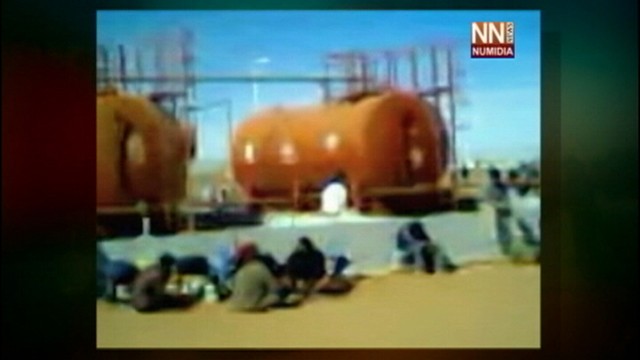 Photo taken by American hostage of Gas Plant attack
We advise that U.S. citizens to avoid overland travel in Algeria. U.S. citizens who reside in or travel to Algeria should take personal security measures prior to travel and we can help with that. If you require assistance please contact our office.
if you are an American traveling any where in the world know the situation on the ground in every country you are traveling to. Your life does depend on your having good information.
Being a smart traveler or investor around the world will help you be sucuessful where you are at. One of the most active places to invest and make a great return in safety is in the Arabian Gulf particular Saudi Arabia and we can help you do your due diligence. We have relationships that can help you understand the lcoal laws and develop the right Saudi partners who are reliable and in the business sector you are in.
One of the hottest business areas is in Security products and defense materials where we have extensive relationships and can help you move through the layers that would normally slow down getting set up. 
One of the reasons I have pushed hard to rollout some of the security products here that haven't been sold outside the U.S. is to support Saudi which is our biggest partner in the fight to stop terrorism and give them more effective tools to use. 
If you would like to visit Saudi i can assist you in getting a visa to come and meet some of our partners who can assist you. Contact me at plittle@westcoastdetectives.us or 818 262 1312. 
Until next time Be Safe:
Phil Little